ProductContent
Mirror Tape Fitness Hoop
$
47.95
You Save:

$-47.95

(100%)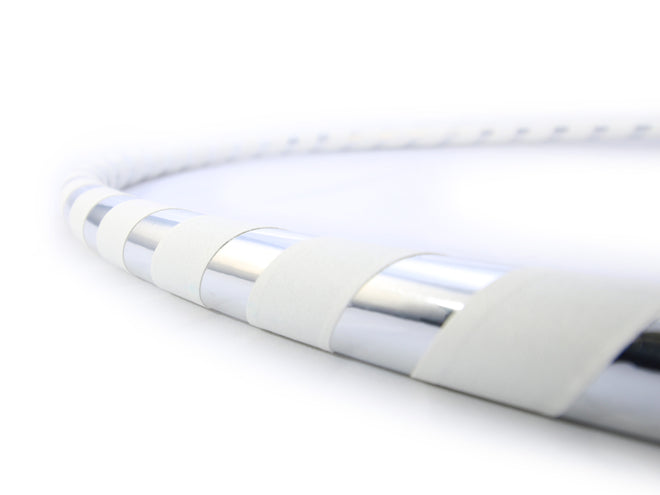 Mirror Tape Fitness Hoop
$
47.95
You Save:

$-47.95

(100%)
Product Description
Description

Returns & Warranty
Description
Perfect for beginners wanting to learn to waist hoop and use their hoop for other full-body exercises such as squats, lunges, core, and arm exercises.  Beautifully taped, our handcrafted Mirror series fitness hoops are one of our newest designs.
Perfect for beginning adult hoopers!
The hoop is weighted to rotate a bit more slowly allowing you to master proper waist hooping movements.
Great weight* and size for exercises such as lunges, squats, shoulder and arm work.  Combine with waist hooping for a perfect total body workout
No knobs or waves in the tubing.  Smooth inner tubing hugs the body nicely as it rotates without bruising from knobs or wavy tubing.
The mirror taping looks beautiful as it spins.

*Each of these hoops is "weighted" meaning that they are made from thicker heavier plastic, not the type of toy you would find at a dollar store.
Small Adult
This is a GREAT hoop for a beginner and someone looking for an overall hoop to use on a daily basis.
Regular Adult
This hoop is meant for people that are wanting something a bit heavier that might be used to one of those foam-padded hoops. This hoop is great if you are a bit on the larger size and looking to lose a bit of weight.
Features
3/4″ OD Polyethylene Tubing
8 Color Options
38″ – 42″ Diameter
Snap Button Connectors
Returns & Warranty
Every hoop we make is custom made to order, meaning you order exactly what you want and we build it and ship it to you. Our hoops are not manufactured in a factory somewhere and thus since everything is custom to order, we do NOT except returns. However we do accept exchanges.We are reasonable people, so jsut reach out and lets chat!
Love it!
Great hoop. Sparkles in the sun!
Consistently Exceptional
Love the handmade quality and exceptional customer service! I've bought three so far and turned others onto these great hoops.
I love my hoop!
The hoop feels so high quality — it's sturdy but lightweight, fully circular, and well balanced. It also looks great! (I love the look of the red mirror tape hoop). I spent a good while researching where to purchase an adult-sized hula hoop and am glad I looked further than the heavier, collapsible, fad hoops that turn up in the early search results. This hoop feels well made and like it was actually designed to foster a sustainable hooping practice. It's been a joy to break out when I'm feeling aimless and has proven to be a great source of fun, indoor cardio exercise that I can do in my small NYC apartment. 10/10 would recommend to a friend!
Love it!
Love my new hula hoop. It took some patience and encouragement to get the locking mechanism to engage, but I'm all set now. Thanks!
Hoop Dreams
Couldn't be more pleased with my purchase! When my hoop arrived, it was identical to the picture online, very colorful and clean. I've used it almost daily and it has not bent or broken. I was also nervous it would be too big or too small for me to enjoy. It's the perfect size.