ProductContent
Hoop and Resistance Band Combo
$
54.95
You Save:

$-54.95

(100%)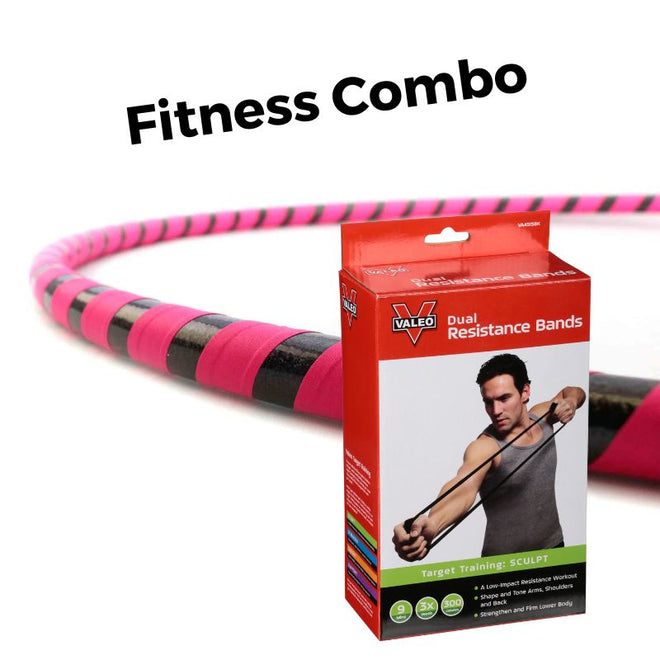 Hoop and Resistance Band Combo
$
54.95
You Save:

$-54.95

(100%)
Product Description
Description

Returns & Warranty
Description
Up your fun with this Fitness Hoop and Resistance Band combo! 
Perfect for people that are bored with their fitness routine, and looking to make getting fit fun! 
Tone, strengthen and do full-body exercises such as squats, lunges, core, and arm workouts. 
Beautifully taped with black glitter and pink gaffer tape. These fitness hoops are easy to use and weigh around 1.3 pounds. Great color for both men and women! ( i LOVE pink, and I'm a dude ;)
*Each of these hoops is "weighted" meaning that they are made from thicker heavier plastic, not the type of toy you would find at a dollar store.
Small Adult
This is a GREAT hoop for a beginner and someone looking for an overall hoop to use on a daily basis.
Regular Adult
This hoop is meant for people that are wanting something a bit heavier that might be used to one of those foam-padded hoops. This hoop is great if you are a bit on the larger size and looking to lose a bit of weight.
Features
3/4″ OD Polyethylene Tubing
8 Color Options
38″ – 42″ Diameter
Snap Button Connectors
Returns & Warranty
Every hoop we make is custom made to order, meaning you order exactly what you want and we build it and ship it to you. Our hoops are not manufactured in a factory somewhere and thus since everything is custom to order, we do NOT except returns. However we do accept exchanges.We are reasonable people, so jsut reach out and lets chat!