ProductContent
Valeo Resistance Bands
$
14.95
You Save:

$-14.95

(100%)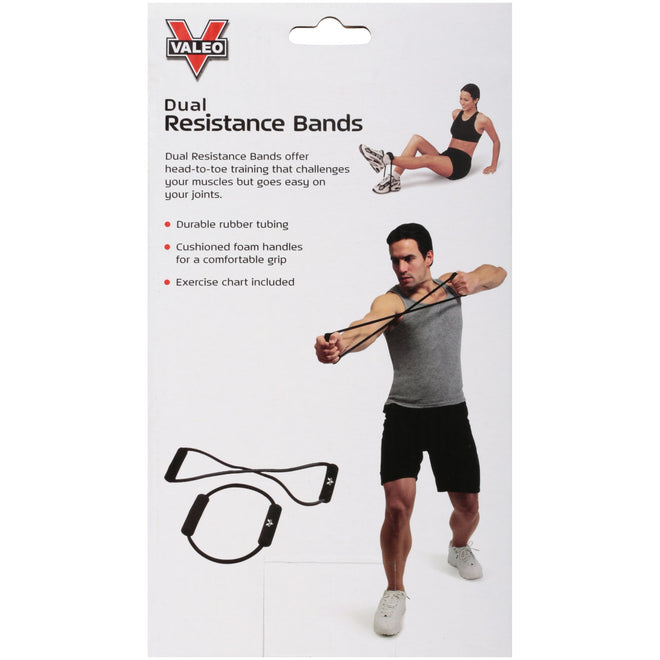 Valeo Resistance Bands
$
14.95
You Save:

$-14.95

(100%)
Product Description
Description

Returns & Warranty
Description
Add more options to your fitness routine with these Black Valeo Dual Resistance Bands.
This set of workout bands will help you add definition to your entire body as you learn new ways to strengthen your muscles and tone your problem areas.
The Valeo Dual Exercise Resistance Bands feature durable rubber tubing and have cushioned foam handles that provide you with a comfortable grip.
This pair of exercise bands condition your legs and arms while offering head-to-toe training. Challenge your muscles while going easy on your joints with these durable Valeo dual bands. A handy exercise chart is enclosed with this set.
Features
Comes with 2 bands
Sculpt resistance level
Returns & Warranty
Every hoop we make is custom made to order, meaning you order exactly what you want and we build it and ship it to you. Our hoops are not manufactured in a factory somewhere and thus since everything is custom to order, we do NOT except returns. However we do accept exchanges.We are reasonable people, so jsut reach out and lets chat!
Great product that meets my specific needs.